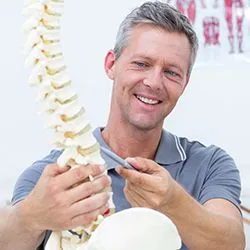 "I LOVE Back Pain!!!"
-
Ever, No-one
Why Do People Suffer From Lower Back Pain?
Lower back pain is practically inevitable at some point or another. The lower back supports the entire upper half of the body, which represents a considerable weight. An acute injury can tear back muscles, dislodge vertebrae, or herniated discs in the lower back. Constant or repetitive strain from a musculoskeletal imbalance or poor posture can lead to chronic lower back strain.
If your back is under constant strain, treatments historically have been to rest, take muscle relaxants and pain killers. These can reduce some of the pain or strain but it addressing the root cause of the problem? After appropriate diagnostics we will give you some treatment options and you decide what makes the most sense for you. For instance, as you get older, your spinal discs can start to flatten and bulge, straining vertebral joints, and pinching major nerve roots. (In the lower spine, pinched sciatic nerve tissue can cause leg pain as well as lower back pain.) We will show you the diagnostics and recommend treatment that first helps address the pain, then options to address the functional aspect of the condition and then teach you how to do the things that will help your back fight gravity more effectively for the rest of your life.
Treatment options include but are not limited to Orthopedic back injections(perivertebral facet, nerve blocks, trigger point, PRP & prolozone), bracing, spinal decompression traction and other dynamic traction, passive and active physical therapy modalities and specific spinal adjustments. Each of these options are based specifically on your spinal diagnostics and exam findings.
Are you ready to learn more about non-surgical lower back pain solutions? Contact Generational Healthcare at (801) 972-0393.